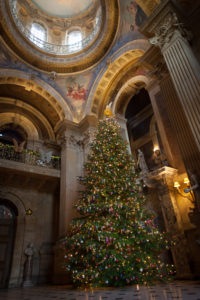 Granny Mumbler tells us what a wonderful time she had with her grand daughter (age 2) and grand son (age 5).
Whilst baby sitting I decided that I'd love to make the most of being so close to Castle Howard and get in the festive mood. We got organised and jumped in the car. It was so nice to do something with the grandchildren as Christmas was approaching and I certainly was not disappointed!
Angels on High was a lovely experience. The attention to detail and over all effect is breath taking. It truly does offer an atmospheric experience to get you on the Christmas spirit.
The size of the Christmas tree was phenomenal and something to remember. It would not have looked out of place in any outdoor park.
The house is filled in the beautiful lights and decorations. There are hundreds of angels and cherubs throughout which the kids loved spotting as we walked round. The gingerbread display was another favourite.
After spending a lovely time in the house we ventured for a cup of tea and piece of cake before we headed down to the play ground for a quick energy burn off.
This was a lovely place to bring the grandchildren and it was so easy. The house really looked beautiful and it has certainly got Christmas off to a great start. We didn't visit Father Christmas as I hadn't got organised but I think a visit to the Boat House may be in the pipeline (this starts on the 2nd December). It's great that you can book on the day, enjoy the splendour of the house and still see Santa.
All in all thank you for a lovely day with my grandchildren. Visited December 2017,