Christmas is going to be different this year. I know the decorations and the tree will be even more important in our house this year. There are some great places in and around Ryedale where you can buy your Christmas tree. Do expect the experience to be slightly different due to COVID-19.
In our house, there is something exciting about going to get the tree. It means Christmas really is coming and the kids love it. Getting a good tree is really important to me, there is nothing worse than having to look at an unbalanced, bald, half dead tree for a month!
As Ryedale is such a vast area, it partly depends where you live as to where you may go to buy your tree. Here are a few that sell really good trees in our area.
Decorating the house in general is high priority this year – this includes wreaths. I have included where they can be bought, made and to make at home!
---
Christmas Tree Farm, Sheriff Hutton – Yorkshire grown, Yorkshire Price!
Christmas Tree Farm in historic Sheriff Hutton promises the freshest Christmas trees anywhere and at a price that can't be matched!
No need to book a slot, just bring the family along and walk in the fresh air through the 2 acres and 1000s of trees to find the one that is just perfect for you and your home. We will cut it and net it there and then or, if you prefer, you can dig one up to take home with you, so you can enjoy it year after year (bring your own spade!).
Our traditional Norway Spruce smell wonderful, ranging in size from 3- 12 feet and whatever size tree you want you will only pay £15!
Being so fresh you can be assured your tree will stay looking its best throughout the festive period.
At Christmas Tree Farm buying your Christmas tree is an experience the whole family can enjoy.
We will be open every day from 9am-4pm from Saturday 28th November through until 20th December. Bring your welly boots.
Any tree, just £15! (cash only, please)
Phone: 01347 879041
Website
Email: info@sheriffhuttoncastle.co.uk
Facebook
Instagram
The Croft, Sheriff Hutton YO60 6SQ
---
The Balloon Tree – Gate Helmsley
We truly value what an integral part of the festive season picking the perfect tree can be. As always we will have a Christmas forest of Trees. These are all locally sourced and grown to be minimum needle drop trees – to save on the hoovering of course.
Our Trees can range from 4ft to a whopping 10ft tall, and from the bushiest Nordmann, to the sleekest Fraser Fir. The Nordmann Fir is your stereotypical Christmas Tree; bushy, long needles and branches which are a deep dark green. The Fraser Fir however, are just as stunning but a slimmer build with shorter needles which have a certain silvery sheen to them, these may be more suited to fit into corners as they take up much less space. In addition to this we do supply a range of potted trees. These are ideal for anyone who wants a tree for outside their house, or even to use inside and then plant in the garden once the festive period has reached a close.
Upon selecting your tree, our team will net it up for you and help you get it into the car… you'd be surprised the size of trees we've managed to get into small cars.
We have a selection of in house made wreaths by expert florist Caroline.
Do visit the shop where we can provide you with a bespoke hamper to please the most decerning of recipient (starting at £20), and of course, you can  place your Christmas Food Order with us ready for the big day.
T: 01759 373023
FACEBOOK
WEBSITE
A166, Gate Helmsley, York, YO41 1NB
---
The Topiary Tree
Let's talk Wreath Workshops…
With the basic kit – you get the base, all the decorations and a choice of ribbon (£25 with instructions). You can add an array of extras in store for £1 an item eg. Bags of dried Chillies/whole fruits.
Collection from the shop Saturday 28th November onwards. Kit numbers will be limited so please order early. Bookings now being taken.
Why not have a zoom party at home with friends? We won't let a Coronavirus spoil Christmas!
Ready made wreaths are also available at sizes to suit your budget
Website
Facebook
Malton Shop: 9 Finkle Street, Malton, YO17 7JD. 01653 692671
Email
---
On sale from Saturday 28th November, we have a huge selection of premium quality non-drop Nordmann Fir and Norway Spruce trees in all shapes and sizes.
All trees are unwrapped for viewing to allow you to select the perfect one, once you have chosen we'll wrap it up for you to take home to decorate. Whichever tree suits you, you'll find the perfect set of lights and decorations from our extensive range to go with it.
Why not pick up a Christmas houseplant to add to your decorations this year? We have a gorgeous range to choose from… as well as English grown Poinsettia and Cyclamen, we have a selection of Amaryllis, Hyacinth arrangements, Orchids and Christmas Cacti too. There is plenty to choose from and a variety of colours too.
Our Garden Centre is open daily, 10am – 5pm and is offering a delivery service for local customers!
T: 01653 648333
FACEBOOK
WEBSITE
Castle Howard Estate, York, YO60 7DA
---

Cedarbarn Farm Shop
Christmas Trees & Handmade Christmas Wreaths will be available shortly. Cedarbarn aim to bring you top-quality, healthy, fresh food with impeccable provenance and as few food miles as possible. There are loads of gift ideas, quality hampers (with delivery available),  decorations, homemade cakes, puddings, tasting sessions and lots more all under one roof – for a convenient local shopping experience!
Our Christmas Order Forms are also available to grab from the Farm Shop and we will be taking orders until December 16th. If you would prefer to have your order form sent via post or email please call us on 01751 475614.
T: 01751 475614
FACEBOOK
WEBSITE
Cedarbarn, Pickering. YO18 7JX
---
Sledmere
For the first time this year, from Tuesday 24th November, we are supplying non drop Nordman FRESH CUT CHRISTMAS TREES. We have a variety of sizes from 3ft to 12ft and will net your chosen tree for you ready to take home. All Christmas trees are grown sustainably in Yorkshire and we also offer the option of them potted rather than cut.
The Woodyard garden, gift and homeware store is feeling very festive with the addition of our popular Christmas Shop. We are the ideal destination for all things Christmas with gorgeous decorations, unique festive gifts and cosy winter homewares, you'll find everything you need to create a special winter wonderland in your own home. We carefully select items from a wide range of local suppliers to give you a variety of unique products, from home fragrance, jewellery, cards and stationary and with new deliveries everyday there's always something different to catch your eye.
Opening hours – Tuesday to Sunday – 10.00 am to 4.30 pm
Sledmere, Driffield. YO25 3XG
T: 01377 236637
Website
Facebook
---
Stud Farm Christmas Trees, North Grimston YO17 8AX
Locally grown Nordmann Firs available from Monday 30th November.
We are open 9-5 weekends and 9-3 during the week.
This year we have card machine for cashless payments and we can offer a delivery service for a small charge.
Our Prices:
5ft tree 150-175cm £30
6ft tree 175-200cm £35
7ft tree 200-250cm £40
8ft tree 225- 275cm £50
You can call, text or What's App Peter on 07500 823 020
Stud Farm, North Grimston, YO17 8AX
---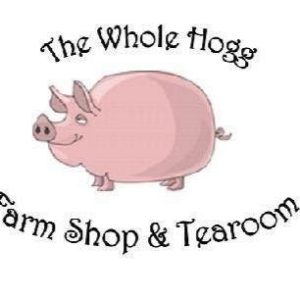 The Whole Hogg Farm Shop
Christmas wreaths available from Friday 13th November. Christmas Trees will also be for sale shortly. They will have a variety of sizes available and your chosen tree will be netted ready for you to take home.
They also have Christmas treats covered and gifts too. Christmas hampers – both personalised for customers and prepared, starting from £15. Christmas order book covering meat, vegetables, fruit, treats and much more is now open.
Delivery service as well so do get in touch.
Howe Bridge Farm, Low Marishes, Malton, North Yorkshire YO17 6RQ
01653 669469
---
Newburgh Christmas Trees
Preparations for Christmas are now in full swing for us at Newburgh Priory Estate in Coxwold.
Enjoy some festive cheer and a family tradition of choosing a perfect Christmas tree, all home grown on the Estate, in our magical Long Gallery Ruins.
We are a family-run business and will be offering a wide range of real cut and pot-grown quality Christmas trees from 27th November.  Our trees range from 2ft to 15-20ft and include low needle drop Nordmann, Fraser Firs and traditional Spruce trees. We'll be offering a reserve now, collect later and local delivery.
Open Daily from 27th November – 20th December.
Monday – Friday 10am – 6pm
Saturdays and Sundays 10am – 4pm
Website
E- info@newburghchristmastrees.co.uk
Facebook
Instagram
Newburgh Christmas Trees, Coxwold. YO61 4AS
---
Scampston Hall
Sell their Christmas Trees at two locations, Scampston Hall and Lowthorpe in Driffield – so two handy locations depending on where you live in Ryedale. Traditional Norway Spruces and non-drop Nordman Firs Trees will be on sale daily 10am – 4pm. Delivery is available on request within 10 miles for £10.00.
Trees available from 28th November 2020.
They are also selling wreaths, supplied by Wack's Wicked Plants.
T: 01944 759111
Email: trees@scampston.co.uk
FACEBOOK
WEBSITE
Scampston Walled Garden, Malton. YO17 8NG
Woodsman's Cottage, Lowthorpe, Driffield. YO25 4AU
---
Flaxton Christmas Trees
Open on Saturday 28th November 2020 every day from 10am to 6pm
We will have social distancing measures in place and will be adhering to government guidelines. Selling non drop Nordman Fir trees and stands.
We have been Selling trees for over 7 years now. Will be very well sign posted.  Do contact us if you would prefer delivery
Visit their FACEBOOK page HERE
Seven Acres, York Lane, Flaxton, YO60 7QZ
---
The Mile, Pocklington
Premium Cut Non-Drop Nordman Christmas Trees are available for collection from Saturday 28th November. These can be pre-ordered too.
Festive meat, fruit and veg, luxury seafood platters and of course your festive hampers are all available in time for Christmas, by collection or delivery at your convenience.
Find full information and order on their website here.
The Mile, Pocklington, YO42 1TW. On the road out of Pocklington towards Millington.
T: 01759 305420
E: info@themilefarmshop.co.uk
FACEBOOK
---
York Christmas Trees – Wigginton
Champion British Christmas Tree Grower 2020
Award winning trees from a local family business – Nordmann Fir, Norway Spruce, Fraser Fir, Potted Trees
New for 2020 –  PYO Christmas tree from our fields at the farm – limited number of slots available see website for further details
Click & Collect and Home Delivery
Christmas Shop opens 26th November selling large supply of freshly cut trees direct from our fields also selling wreaths, tree stands, lights and decorations will also open from this day.
We are doing everything we can to safely bring Christmas to your home!
T: 07957 220837
FACEBOOK
www.yorkchristmastrees.co.uk
Wigginton Lodge, Wigginton Rd, Wigginton, YO32 2RH
---
Once you have got your tree home, it's then really important to look after it to ensure it looks the best it can! Here are some care tips….
1. Encourage your tree to drink plenty of water, a Christmas tree with no roots will still drink water by capillary action through its trunk, in the same way a cut flower in a vase does.
2. Before placing your tree in water, saw the bottom 1" (3cm) of the trunk away as this will open up the pores which have blocked since harvesting. Don't cut the trunk at an angle, or into a v-shape, as this makes it far more difficult to hold the tree in the stand. It also reduces the amount of water available to the tree. Drilling a hole in the base of the trunk does not improve water uptake.
3. If you are not decorating your tree immediately it will be best kept in a bucket of water, somewhere cool and out of the wind. By removing the net at this point you will allow the branches to relax and fall back into shape.
4. Place your tree in a stand that will hold water (a traditional reservoir type), as buckets containing sand or soil will cause the pores in the trunk to block and prevent your tree from drinking. Use a stand that fits your tree. Avoid whittling the sides of the trunk down to fit a stand. The outer layers of wood are the most efficient in taking up water and shouldn't be taken off if possible.
5. Keep trees away from major sources of heat (fireplaces, heaters, heat vents, direct sunlight). Use of lights that produce low heat, such as miniature lights, will reduce drying of the tree.
6. Keep your real tree topped up with water, as they can drink anything up to 2 pints per day depending on size and room temperature.
7. Never allow your tree to dry out as this will create a blockage within the pores and prevent your tree from taking up further water.
8. Add a small amount of sugar to the water as this will convert it to a more sap-like solution and make it easier for the tree to take up (just like cut flower crystals). You can also add a little lemonade, but take care not to end up with a sticky carpet or presents!
9. Turn your Christmas tree lights off at night, not only for safety and to save energy, but also to help reduce the drying effect on your tree.
10. Ensure there are plenty of presents underneath it to keep it company, and have a very Happy Christmas!