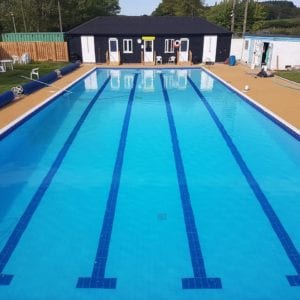 Helmsley Open Air Pool re-opened yesterday, Saturday 25th May 2019 after an extensive re-furbishment.
We acquired some substantial funding in late 2018 to start the work on saving the Pool tank. This task is almost complete so for 2019 we have a new pool tank. a new surround a new compound fence and some added security.
Sadly what we could not afford for this year was to replace the rather tatty changing rooms, loos and domestic offices. But we are still fund raising and begging! We hope that by this time next year the changing rooms, loos and offices will have been totally renewed or replaced.
Please keep coming and swimming.
New for 2019 are: a Credit/Debit card machine to allow us to take payments so no running to the bank for cash!! A hoist to enable disabled users to enter (and exit!) the Pool safely (although we lack the ancillary items at the moment).
Our timetable is a little different from what you may be used to so please take a little time to check when our sessions are. We do get very busy on very hot days and for safety reasons the pool capacity per session is limited to 80. We have never reached capacity when it's raining, which we can't understand as swimming in the rain is truly wonderful, a delight to the senses; although the pool with be cleared/closed if there is a risk of thunder. Whether it's a moonlight swim or our popular Aquathlon series, there's a lot going on for everyone at the pool.
Please take a look at our 'friends' page to see if there is anything you can do to help the pool.
June 21st 2019 – Summer Solstice Swims
July 30th – August 13th 2019 – Helmsley Aquathlon Series
Auguest 18th 2019 – Helmsley Triathlon & Swim Run
Children (4 years to 16 years) cost £3.50 and Adults £5. Family £17 (2 adults and 3 children)
Baxton's Sprunt, Helmsley, YO62 5HT. 01439 408010
info@helmsleyopenairpool.org
Website
Facebook