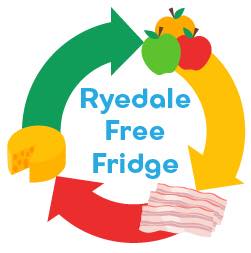 A new community-led initiative, which has been supported by Coast and Vale Community Action's Totally Socially project, is being launched to tackle the issue of waste food in Malton and Norton. The Ryedale Free Fridge is being developed to enable residents and businesses to share surplus food.  Anyone who wants to will be able to help themselves to quality food that would otherwise have to be thrown away.
The Fridge is located at The Wesley Centre in Saville Street, Malton, which fits with the Church's vision of using its large building and planned transformation as a Community Hub for everyone. The Fridge will initially be open 3 days a week to enable residents and businesses to share surplus food and for anyone to help themselves to quality food which retailers can no longer sell even though it is still suitable to eat.
Food waste is a big issue in the UK. The average household throws away £700 worth of food every year and at the same time 4 million people in the UK are living in food poverty. Most food waste in the UK is avoidable and could have been eaten had it been better managed.
The Wesley Centre was packed for the opening of the Ryedale Free Fridge at midday on Sunday. Rev. Tanya Short blessed the Fridge before cutting the ribbon to officially open the Fridge. The Fridge is full of food donated from local businesses, available to all members of the community to come and help themselves.
A soup made from leftover vegetables by Chapter One Bistro, along with donated bread from Yo Bakehouse, was handed out to visitors to the Fridge and people passing the centre.
Lindsay Wrightson from Ryedale Free Food said "We would like to thank Rev.Short for opening our Fridge plus a huge thank you goes to our volunteers who have been extremely busy over the last few days in preparation for the launch. We are most grateful to the businesses in Malton for their generous donations of food especially Yorkshire Baker, Yo Bakehouse and to Chapter One Bistro for providing the delicious soup. Special thanks must also go to Jo Laking from Coast and Vale Community Action for all the support which she has given us to help us get our project off the ground."
The Fridge already has pledges of food from local businesses and is calling all local food businesses/ allotment holders in Malton to donate surplus food from the 8th December onwards.
Lindsay Wrightson from Ryedale Free Fridge says, "The Fridge will be the first of its kind in North Yorkshire and will put Malton on the map as a concerned food capital, addressing food waste while supporting those who need food."
"We aim to have a fridge located in both Malton and Norton – and it's wonderful that The Wesley Centre has generously agreed to host the Malton Fridge, though a venue for the Norton Fridge is yet to be secured".
Linsday goes on to say: "The Fridge needs volunteers who are able to give 2-3 hours per week of their time to either help to maintain the fridge or collect the donations of food. Full training will be given in food safety with the first session starting on 27th December, so we urge anyone who is interested to get in touch as soon as possible. For those who are not able to give time perhaps they may consider making a donation to the project instead."
Revd. Tanya Short, Methodist Minister in Malton said: "This is great. We're excited to be hosting this venture and we want to be long term partners with Ryedale Free Fridge. It's a perfect fit for the Wesley Centre as the Community Hub for Malton – which recently secured the planning go-ahead for its major redevelopment; and speaking from experience, I know there's such a genuine need for the Fridge in our town".
The Malton and Norton Lions are supporting the development of the fridge and have contributed to the purchase of the fridge. Steve Sidaway, President of the Lions says, "We are really pleased to support this outstanding idea which will help reduce food waste and make a great difference to those in food poverty."
Jo (Locality Worker in Ryedale for Coast and Vale Community Action's Lottery funded Totally Socially project), said "CaVCA are delighted to have helped with the development of such an important project. We are always looking for new projects to get involved with so if anybody has any ideas that they would like to explore I urge them to get in touch. Totally Socially aims to help people develop their ideas for new services, activities or events."  Jo can be contacted via telephone 07375 668996 or email jo.laking@cavca.org.uk.
The Fridge will be open to every Monday, Wednesday and Saturday between 10am and 4pm.
To find out more about the Ryedale Free Fridge, donate or volunteer telephone: 07931 202779, email: ryedalefreefridge@gmail.com or Facebook at Ryedale Free Fridge.